The Concept
The Barrel Train is an american idea, which was first developed for the UK market in 2005. Each Barrel Train is a small trailer and when linked together they form a rugged off road train. Towed by a compact tractor or a quad, the Barrel Train has quickly become a hit at many farm parks.
Versatility
The Barrel Train is designed so that each barrel will follow the one in front, it will meander wherever the drive vehicle takes it. The quad tyres and low centre of gravity keep the train very stable.
Reliability
They are very easy to operate, safe and very reliable. They are easy to pressure wash clean and each barrel comes equipped with a safety belt.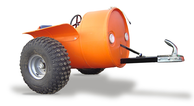 Barrel Trains

Colours:
Light Green. Dark Green. Red. Blue. Purple. White. Pink. Yellow. Black. Orange. Brown.
Dimensions:
L : 1500mm W : 1160mm H : 760mm
VIEW or DOWNLOAD FULL TECHNICAL SHEET